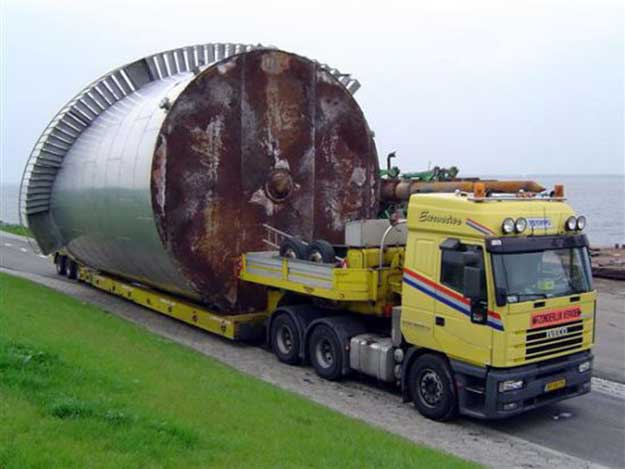 Oversized cargo transportation is a rather complex task, and as such must be handled only by companies with extensive experience in this area. "Husky Logistic" offers oversized cargo transportation of any difficulty because we possess the necessary experience.
Why choose us?
There are many reasons why our company is very good at oversized cargo transportation, here are a few key ones:
We possess the necessary tech and transport that are up-to-date and in mint condition. We have access to various transportation methods, such as haul trucks, trailers and low roaders. Our drivers are very proficient at attaching and transporting oversized cargo. Our company's specialists are very knowledgeable about oversized cargo transportation routes and can provide assistance with oversized cargo transportation through all the transit countries.
We have a license for oversized cargo transportation and a whole set of permits for this kind of transportation in Europe and the CIS. "Husky Logistic" possesses necessary permits from overseeing organization. All of our routes are 100% approved by local authorities. The Federal Road Service of Russia handles these permits in the Russian Federation. They handle both the local and foreign companies that possess all the necessary documents. It is important to start processing the documents as early as possible for us to deliver your freights on time.
Our employees are capable of consulting you on the technical specifics of such goods transportation. We can also control the whole duration of document processing.
Acquiring a transportation permit
Acquiring a transportation permit for oversized cargo requires approximately 6 days. In extraordinary cases it might require up to a month. We use this time to develop a plan of the transportation of your freight and get it approved by numerous organizations. Oversized cargo transportation requires approval of the Ministry of the Interior of Russia, air traffic control and the State Traffic Safety Inspectorate. We can provide patrol cars for your freight if necessary.
Oversized cargo transportation in Europe
Acquiring a permit for oversized cargo transportation in Europe requires a standard document set and detailed information about the freight. The acquisition of this permit is greatly influenced by the transportation vehicles that belong to the transporting company. Thanks to "Husky Logistic" 's excellent vehicles, the permit is usually ready in no time.
Our company, "Husky Logistic", has been providing oversized cargo transportation in CIS countries and Europe for many years. Our employees have become extremely efficient at solving problems that can arise when transporting goods abroad. Our company has a branch office in Finland, which allows for fast European transportation permit acquisition. "Husky Logistic" possesses its own vehicle park and has all the necessary permits that allow for oversized cargo transportation.