Consolidated goods transportation
There are numerous methods of goods transportation. Consolidated goods transportation is considered to be the most popular one. Consolidated goods transportation refers to transporting freights of small sizes from different clients in one direction. This transportation method allows the Client to save a considerable amount of money when transporting small goods, however medium-sized and large goods are usually not transported this way. Consolidated goods transportation is the way to go for transporting small sized goods.
Rate for consolidated goods transportation
Helsinki – Saint Petersburg
| weight, кг | Saint Petersburg, euro |
| --- | --- |
| 0-100 | 350 |
| 101-200 | 380 |
| 201-300 | 380 |
| 301-500 | 420 |
| 501-750 | 450 |
| 751-1000 | 500 |
| 1001-2000 | 540 |
| 2001-3000 | 580 |
| 3001-4000 | 620 |
| 4001-5000 | 660 |
| 5001-6000 | 720 |
| 6001-7000 | 760 |
| 7001-8000 | 800 |
Goods transportation in Saint-Petersburg
Consolidated goods transportation has gained extreme popularity due to the size of our country. One of the most heavily-loaded routes is the Saint-Petersburg route. A very large amount of goods goes to and from Saint-Petersburg, thus there is never a problem in organizing consolidated goods transportation in this direction. The large amount of transportation traffic in this direction is due to the city being located close to the border. The quickest route to Europe from Russia is via Saint-Petersburg. Saint-Petersburg's infrastructure is developed very well – the roads are in prime condition, the seaport has excellent dock capacity and the city has its own customs control.
Saint-Petersburg deals with huge amounts of goods all the time, including consolidated goods from Finland. Goods transportation over borders is always a process that requires many special documents and permits. "Husky Logistic" provides comfortable transportation of goods over borders. We operate in every direction and provide door-to-door transportation with no participation required from you. Our company has numerous excellent business partners abroad, hence delivery and transportation don't cause many problems.
Transportation from Europe
We are assisted in consolidated goods transportation from Europe by our business partners who offer affordable prices and are always happy to cooperate. They work very efficiently and transport goods in very good time. The goods always arrive on time.
Thanks to our coordination with our Shanghai and Helsinki branch offices our company always has accurate information about these cities' warehouses. We can track the goods' status and location at all times for your comfort.
Our company offers a variety of services:
Worldwide consolidated goods transportation.
Expeditious sea and air transportation
Key advantages offered by "Husky Logistic":
Our organization takes upon itself the whole process of transportation document confirmation
Customized solutions for each client
Additional information
Included: processing of CMR, TIR 100 euros
Included: processing of electronic TIR (1-2 codes). Each additional code comes at 5 euros
Transportation prices do not include 18% VAT on Russian Federation territory (if you do not separate the prices of transportation before and after the border we apply 0% VAT).
Embarking and Disembarking time
Abroad : 4 hours
On Russian Federation territory: 24 hours
Tariffication
Basic: 200 euros / day (including VAT). 1 m3 = 333 kg, 1 route meter = 2000kg.
If the goods are due for transit (in T-1 mode) the base price is increased by 50 euros (provided they are not shipped from Russian Cargo Service OY warehouses).
Dangerous goods transportation (ADR) +20%
Goods with temperature requirements: +25%.
Freight transportation via air
International freight transportation via air
Our company "Husky Logistics" determines its main goal as organizing affordable freight transportation within the shortest possible time, as well as taking in mind all of the Client's wishes. We can offer aerial transportation within and without Russia and also aerial expedited courier transportation.
Our International freight transportation via air service includes into itself the following:
Transportation of the freight via land from the Client's warehouse to the departure airport;
Appropriate packaging;
Customs clearing in various airports of Russia
The transportation itself (we employ the services of "Lufthansa", "SAS", "Air France", "Finnair" for this);
Customs clearing in the destination airport;
Transportation of the freight via land from the destination airport to the receiver's warehouse.
Our criteria of quality international freight transportation via air
We cannot consider a transportation service done well unless it fits these criteria that we set for ourselves:
Fulfilling our client's wishes to the best of our ability
Adequate pricing for the client
Timely information of the freight's whereabouts for the client
The Pulkovo customs
We provide the following services that help the customs clearing in the Pulkovo airport:
Processing all the necessary paperwork required for crossing the border;
Processing the freight itself under the supervision of a customs broker;
Assigning an appropriate Customs Commodity Code;
Defense of the client's interests at the customs;
Supervision over the customs procedures;
Consultation on any matters that concern customs.
Normally, the procedure of processing a freight in the Pulkovo customs takes 1-3 days.
Freight transportation by sea
Modern freight transportation Is very effective, fast and secure. Transportation by sea is the most popular kind of transportation.
Freight transportation by sea with "Husky Logistic"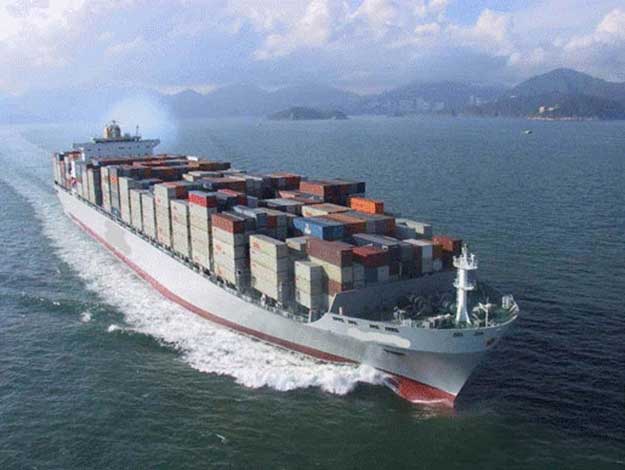 "Husky Logistic" offers the following to its clients:
Optimized sea routes;
Smooth goods insurance process;
Freight forwarding and delivery in the seaports of Saint-Petersburg and Ust-Lug.
Careful planning of the transportation schedule which negates the low speed of this transportation method.
Quality client service
Effective and fast solutions for problems in countries of delivery
FOB-delivery and EXW-delivery
Operating with all freights of all sizes
Freight transportation by sea offers excellent security and low prices. By choosing the safest method of freight transportation you significantly lower risks of material losses.
International freight transportation by sea is possible for all sorts of goods:
Granular;
Liquid (oil products, service fluids);
Food items;
Industrial instruments and tech;
Construction materials;
Final products and raw materials.
Advantages of using "Husky Logistic"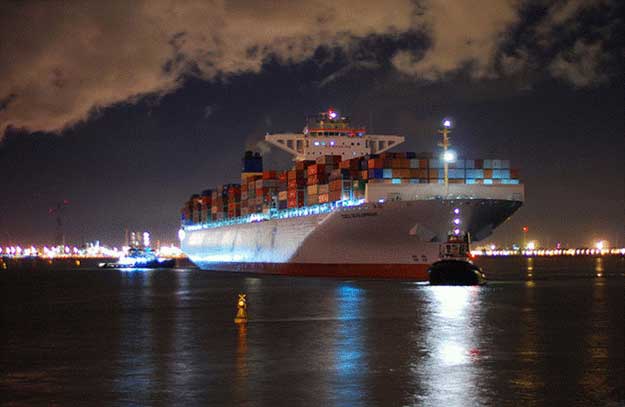 Our company consists exclusively of professionals who are able to organize world freight transportation by sea quickly and efficiently. We allow you to save money by providing the following services:
Preliminary reservation of a necessary space on the ship;
Organization of receiving, processing, additional packaging, storing and marking goods at the destination;
Customs documents processing;
Providing the location and status of your goods at any time;
Door-to-door transportation
We are very efficient in freight transportation by sea: a wide network of agents and business partners allows us to solve any transportation problem that can arise when transporting goods from any port to Saint-Petersburg or any other nearby port.
Freight transportation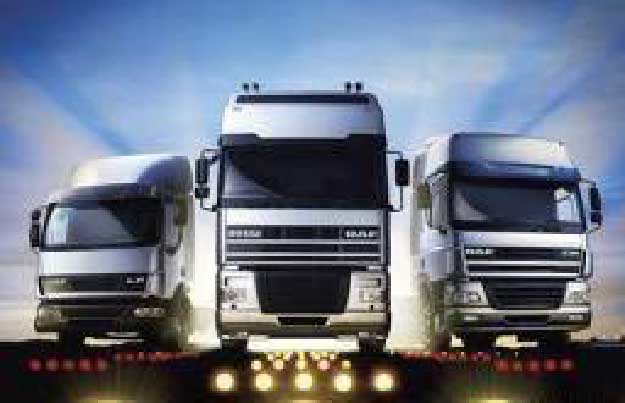 "Husky Logistics" can offer international freight transportation by truck. The fact that we have branches in two crucial logistical spots – Helsinki and Shanghai – allows us to provide effective freight transportation by truck in numerous directions.
Advantages that "Husky Logistics" offers
Trucking is often the transportation method of choice in modern times. This has to do with a whole variety of unarguable advantages it offers:
Direct transportation from the sender to the recipient with no additional unloading and loading required en route;
Transportation in any direction;
Availability of both composite and full-truck transportation;
Delivery of Chinese goods by truck via Kazakhstan;
Constant control over the freight's status and location;
Possibility of using specialized vehicles for oversized or dangerous cargo transportation; We also provide the processing of the documents necessary for such transportation;
Temperature-dependent freight transportation;
Processing of paperwork required for transportation via transit territories;
Customs paperwork processing;
100% Honest and legal operations in customs documents processing;
We use only 100% legal methods of transportation.
Organizing cargo transportation by truck with "Husky Logistics"
Our company offers very professional financial and logistical expertise which helps the Client save money and time in many different ways. Our staff is very qualified in making the best route and vehicle decisions while making adjustments for every individual case. We only require the cargo parameters and the departure, destination and time frame for the transportation. "Husky Logistics" is partnered with very reliable companies and is equipped with state-of-the-art vehicles which guarantee effective and secure cargo transportation.
Determining the costs of transportation
You can enquire about the transportation costs on our website. After you submit the necessary information (cargo description, destination, departure locations, volume, weight of the cargo etc.) our specialists will contact you about the cost in the shortest time possible.
Containerized cargo transportation
Containerized cargo transportation to Russia
Containerized cargo transportation is a modern, convenient and safe cargo transportation method. It is also the cheapest cargo transportation method to date. Another unarguable advantage of this method lies in the absolute security of the cargo en route. A container is an isolated metal box which denies unauthorized access to the cargo as well as nullifying many sources of mechanical damage. To enhance the security even further, the container is sealed upon departure. On a final note, the ability to track the container's location the whole duration of the transportation process provides additional security.
"Husky Logistics" has a large amount of containers and so will always be able to provide you the necessary equipment. In order to request this service you need just to contact our company – from that moment on, all your worries will be handled by our trained professionals. "Husky Logistics" has extensive worldwide connections and offices in Kazakhstan, the USA, Finland, CIS countries and other regions.
Containerized transportation allows you to transport cargo of very varying proportions.
Container types
"Husky Logistics" can provide you with many different types of containers.
Standard container

20 feet (20 or 24 tons)
40 feet (35 tons)
45 feet (High cube)
40 feet (for oversized cargo)

Refrigerating/heating container
Flatracks for oversized cargo
Cistern containers designed for liquid and gaseous cargo
Special characteristics of containerized cargo transportation
Containerized cargo transportation is considered a multimodal transportation, i.e. the cargo changes its transporter en route. However, the cargo itself doesn't change its position in the container.
"Husky Logistics" offers the following services connected to containerized cargo transportation:
Cargo insurance
Yellow-band area professional service request
Loading and unloading your cargo
Tracking the location of your cargo
Positioning your cargo securely in the container
Cargo forwarding
Our highly professional staff will allow you to send your cargo quickly and easily to any destination.
Transportation of oversized cargo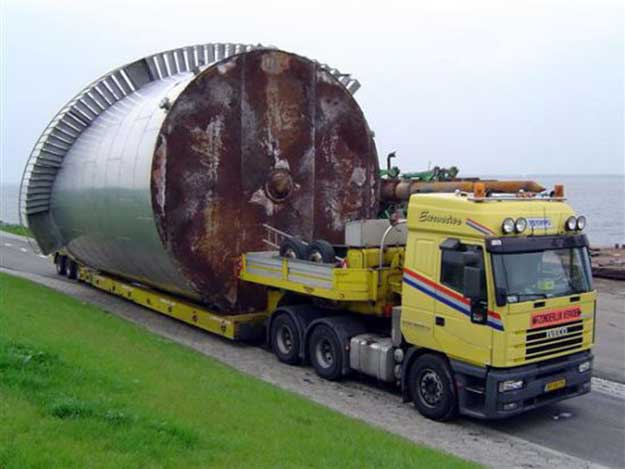 Oversized cargo transportation is a rather complex task, and as such must be handled only by companies with extensive experience in this area. "Husky Logistic" offers oversized cargo transportation of any difficulty because we possess the necessary experience.
Why choose us?
There are many reasons why our company is very good at oversized cargo transportation, here are a few key ones:
We possess the necessary tech and transport that are up-to-date and in mint condition. We have access to various transportation methods, such as haul trucks, trailers and low roaders. Our drivers are very proficient at attaching and transporting oversized cargo. Our company's specialists are very knowledgeable about oversized cargo transportation routes and can provide assistance with oversized cargo transportation through all the transit countries.
We have a license for oversized cargo transportation and a whole set of permits for this kind of transportation in Europe and the CIS. "Husky Logistic" possesses necessary permits from overseeing organization. All of our routes are 100% approved by local authorities. The Federal Road Service of Russia handles these permits in the Russian Federation. They handle both the local and foreign companies that possess all the necessary documents. It is important to start processing the documents as early as possible for us to deliver your freights on time.
Our employees are capable of consulting you on the technical specifics of such goods transportation. We can also control the whole duration of document processing.
Acquiring a transportation permit
Acquiring a transportation permit for oversized cargo requires approximately 6 days. In extraordinary cases it might require up to a month. We use this time to develop a plan of the transportation of your freight and get it approved by numerous organizations. Oversized cargo transportation requires approval of the Ministry of the Interior of Russia, air traffic control and the State Traffic Safety Inspectorate. We can provide patrol cars for your freight if necessary.
Oversized cargo transportation in Europe
Acquiring a permit for oversized cargo transportation in Europe requires a standard document set and detailed information about the freight. The acquisition of this permit is greatly influenced by the transportation vehicles that belong to the transporting company. Thanks to "Husky Logistic" 's excellent vehicles, the permit is usually ready in no time.
Our company, "Husky Logistic", has been providing oversized cargo transportation in CIS countries and Europe for many years. Our employees have become extremely efficient at solving problems that can arise when transporting goods abroad. Our company has a branch office in Finland, which allows for fast European transportation permit acquisition. "Husky Logistic" possesses its own vehicle park and has all the necessary permits that allow for oversized cargo transportation.
Dangerous cargo delivery
Dangerous cargo delivery. Classification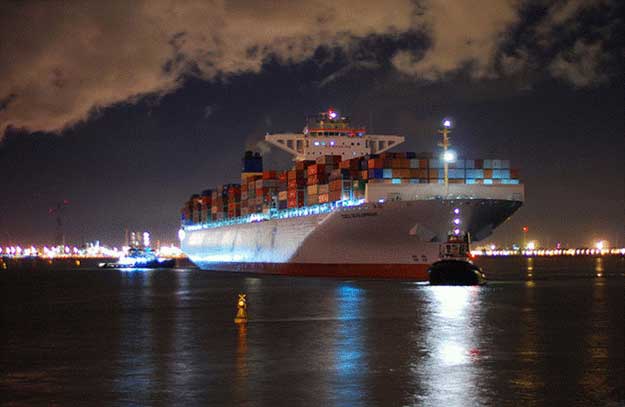 The biggest advantage of cargo transportation by truck is the possibility of delivering the goods directly to the doorstep of the receiving side. It is also possible that the route the truck will take is more direct than other means of transportation, most of the time resulting in a cheaper procedure. Dangerous cargo transportation follows these steps:
Processing all the necessary documents;
Preparations for the cargo and delivery vehicle;
The transportation itself;
Delivery of the cargo to the receiving side.
There are various laws and regulations about the transportation of dangerous cargo, so it is necessary to choose a delivery service that has proven its worthiness time and again.
Dangerous cargo
Dangerous cargo is defined as flammable, explosive, poisonous, and otherwise hazardous in either loading, unloading or transportation.
The top-10 dangerous cargo types consist of:
Explosive substances (pyrotechnics and other explosive substances, especially those that may result in a fire)
Any gases (liquid, compressed or dissolved)
Easily flammable substances (oil, petrol)
Easily flammable objects and hazardous substances (cargo that can easily catch fire from outside disturbances en route)
Oxidizable liquids and organic peroxides (Substances capable of producing oxygen and thus strengthening a possible fire, also easily flammable substances)
Poisonous and infectious substances (Cargo, capable of causing infection or lethal poisoning to humans when it gets inside the body or on the mucous membrane)
Corrosive and acidic substances (Cargo capable of causing skin or mucous membrane damage or metal corrosion)
Nuclear substances (Any cargo that is capable of emitting radiation)
Other cargos that may not be as dangerous as the abovementioned, but must be handled as recorded in the according safety rules and regulations.
Sea delivery of dangerous cargo is even more demanding on the delivery company's professionalism, because the cargo is a source of danger for the whole cargo vessel. Considering the importance of this process, there are many laws and safety regulations that minimize occasions of health or environment damage.
When you entrust your dangerous cargo to "Husky Logistics" you can be sure of its safety and of the following of all appropriate rules and regulations by our staff. Due to having multiple trustworthy business partners and many branches all around the globe, we can guarantee not only the quality of the service provided to you, but its low price.
Transportation from China
Consolidated goods transportation from China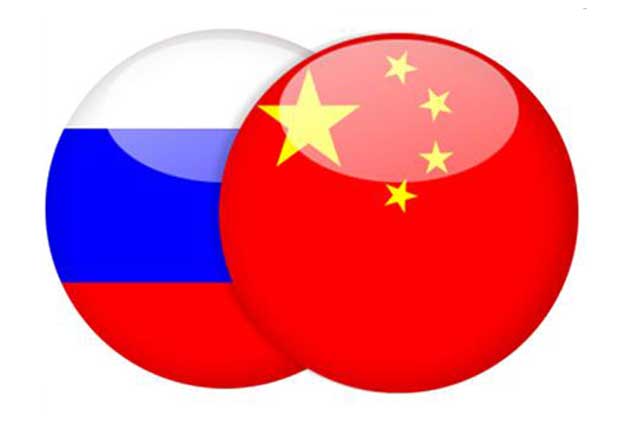 Multiple small cargo deliveries from China can pose a serious financial problem, due to the inadequate pricing of each singular delivery. We see the best solution for this issue as combining your goods with goods of other clients, thus minimizing the cost for all parties involved. By letting us handle the consolidation of all these goods into one transport, you save yourself invaluable time and money.
Cooperation with Husky Logistics
Husky Logistics cooperates fully with both private customers of the Chinese market as well as business owner. Neither need to worry about the timeliness of our deliveries, we value the flourishing of your interests as much as ours.
The process of ordering goods from China can be divided into several stages:
Ordering the necessary goods. This is the only step that depends heavily on the client. It is necessary to notice that while the market in China is vast, it can sometimes offer low quality goods that do not meet your requirements. This is why we offer professional consultation in this matter.
The consolidation of the goods. We handle the next step – assembling all the goods for transportation and cooperating with all our clients about it.
Cargo loading and customs. Throughout this stage, our company holds full responsibility for your goods. We offer complete tracking of the cargo's transportation over the customs.
Customs clearance and further cargo distribution. During this stage the cargo goes through the process of customs clearance and distribution between receiving sides. This stage also covers transportation of the cargo on the receiving side country's territory.
The undeniable advantages our company offers are the low price of the delivery and its timeliness. We also have complete support of all the warehouses that your cargo may reside in during its delivery.
Partners
Our company has a branch in China, therefore business cooperation with us will undoubtedly prove fruitful. Thanks to our partners in Finland, such things as repackaging and remarking your cargo become possible.
Delivery of goods from Finland
Delivery of goods from Finland to Saint Petersburg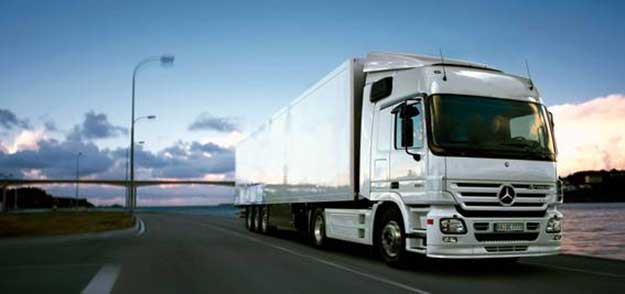 Finland has been a top trade partner of the USSR (and afterwards Russia) for more than fifty years. The goods exchange between these two countries grows throughout the years, not in any small way thanks to the economic advantages of motor transportation to railroad transportation.
The advantages of motor transportation
So what are the advantages that transporting your goods by truck can provide?
Logistic mobility. Trucks offer delivery from your specified location right to the destination.
Speed of delivery. Motor transportation of cargo from Finland is quicker than railroad transportation due to many reasons, including the rerouting of many cargo trains after the launch of the "Sapsan" train line.
Less bureaucracy. We can solve all problems that may arise in the process of preparing customs documents for your cargo.
Advantages that "Husky Logistics" offers
Your needs are our top priority. We will organize the delivery of any kind of your cargo from Finland strictly following your instructions.
We have a branch office in Helsinki, which allows us to fully control the process of preparing the necessary customs documents.
Business partners in Finland which help us in solving very specific problems, for example processing European export declarations, cargo remarking and changing the transport documents. These issues may help you in many ways, for example if you plan on re-exporting the goods back to Europe.
We can help you save your time. By delegating the solving of your customs and other issues to us, you free up your staff and can solve issues more effectively.
We enhance your company's cargo turn-over , optimize your transportation efficiency and minimize the effort you need to put into logistics.
Our extensive experience in cargo transportation from Finland allows us to solve almost any problem that can possibly arise in the process.
We encourage you to try the services of our company, you won't feel disappointed.
Expedited delivery of cargo in Europe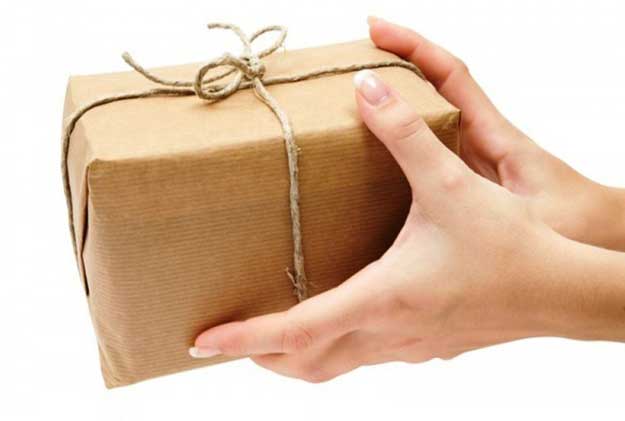 "Husky Logistics" offers cargo deliveries from Europe by truck and by plane. We have extensive experience in this area and can guarantee the undeniable quality of our work.
Specifics of foreign purchases
There are many reasons to get cargo delivered from Europe:
Optimal pricing;
Excellent quality;
Swift delivery;
Individual attention to every client, just to name a few
Husky Logistics has superb connections to warehouses located in Finland which allow us to control the process of your cargo being delivered even better, following it every step of the way.
Our credentials
Our company has connections to many business partners in Europe, which allows us to minimize the problems on customs and to provide maximum delivery efficiency. We have branch offices in Shanghai and Helsinki, which enhance our capabilities in these and adjacent countries. We can offer turnkey delivery, as well as fast and professional customs document preparation. We always pay individual attention to even the smallest of our clients' needs. We can also solve problems that can arise when delivering cargo to Russia, such as
Remarking cargo
Remaking customs documents to fit the Russian customs
Writing export declarations.
We are ready to take on ourselves the hardest part of these deliveries, but difficulties do not dissuade us – we are eager to prove to be able to satisfy even the strictest client.
Cargo delivery from the US

Cargo delivery from the US is a service that requires a combination of approaches. We, "Husky Logistics" offer timely international cargo delivery from North America for a very moderate price and we also support door-to-door delivery.
What enables us to offer such services?
Long-term partnerships with our colleagues from abroad allows us not only to significantly reduce the price of the service and guarantee the timeliness of the delivery, but to track the position and status of your cargo at any moment in time.
The ability to solve a variety of third-country specific issues. Our branch office in Finland offers cargo remarking, customs documentation adjustment and producing export declarations amongst many over services.
The ability to transport consolidated cargo by sea or air.
Our transport abilities come first-hand – no additional fees for third parties.
We insure every cargo that we deliver from North America – the client's security is our top priority. Our experienced managers can help you choose the right insurance plan for your cargo and provide you with maximum comfort on every stage of the delivery.
Consolidated cargo delivery
Consolidated cargo delivery can be provided by the seller delivering the goods to our warehouses and by having us pick up the cargo from the seller. Depending on your goals you can choose delivery by sea or by air. The delivery to and from the warehouses is provided by our own trucks which allows to minimize your financial investments and optimize time en route. Our company offers the service of processing import documents for distilled goods.
Consolidated cargo deliveries by sea from North America can be sent from any large seaport in the US: our company is represented (either by our own employees or our partners') on the whole coast of the country. Cargo is usually transported to Saint Petersburg or a nearby port in no more than 40-45 days from the West coast and 20-25 days from the East coast.
Deliveries by air from the US are assisted by our partnerships with agencies in all large US airports.
Cargo delivery within Saint Petersburg
Cargo distribution is immensely important as it involves door-to-door delivery. We offer any type of transportation vehicle for any type of cargo (including dangerous cargo and temperature-sensitive cargo). We deliver from any point to any point.
Not only do our local services include transportation within Saint Petersburg, but also:
Freight forwarding in seaports and airports;
Reloading cargo for further transportation;
Temporary warehouse storage of your cargo;
Repackaging cargo;
Surveying inspection organization. Temperature-sensitive cargo storage.
Our warehouses offer low prices for storage and loading-unloading, which allows us to optimize your financial investments into the cargo's delivery.
Freight forwarding. Port Customs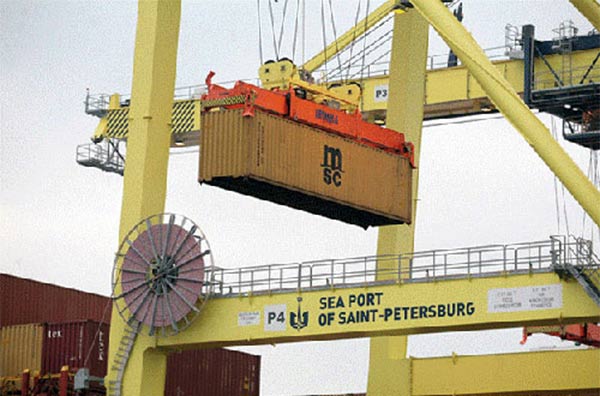 By offering their clients third party logistics operator services, "Husky Logistics" assures that it will oversee the whole process of your cargo delivery from the sender to the recipient. The process includes:
Cargo reception including unloading inspection if necessary;
Cargo loading control;
Delivering your cargo (usually via truck) to the transshipment facility (sea or river port, railway station, airport);
Freight forwarding
Further delivery using different transport types if necessary, includes unloading and loading your cargo onto different transport;
Customs documents processing;
Delivery of goods to the receiving side.
Port forwarding
One of the aforementioned steps is freight forwarding, which can imply both incoming cargo (imported or coastal) or outgoing cargo (for export or coastal). "Husky Logistics" oversees the following steps of forwarding for incoming cargo:
One of the aforementioned steps is freight forwarding, which can imply both incoming cargo (imported or coastal) or outgoing cargo (for export or coastal). "Husky Logistics" oversees the following steps of forwarding for incoming cargo:
Stevedore work on board of the ship. This service is provided by specialized stevedore companies and includes into itself the unloading of your cargo from the ship to the ship's railing.
Terminal cargo handling – implies the following operations being carried out with the cargo:

Unloading from the railing to the pier;
Receiving the shipping documentation;
Moving the cargo from the pier to the terminal or the port warehouse;
Warehouse or terminal labor;
Loading your cargo onto the transport for further delivery;

Handling the customs formalities;
Customs, sanitary and other documents processing; These are added to the documentation that comes with the cargo.
For export or coastal outgoing cargo the order of the operations is reversed.
"Husky Logistics" sees its goal as perfect coordination of every partner's efforts on all stages of the delivery. The quality of the services provided on every step of the way determines how fast the cargo can pass the customs and port processing, saves money on storing the cargo, makes document processing easier and ensures that your cargo will reach the destination as soon as possible.
Import and export of cargo in Russia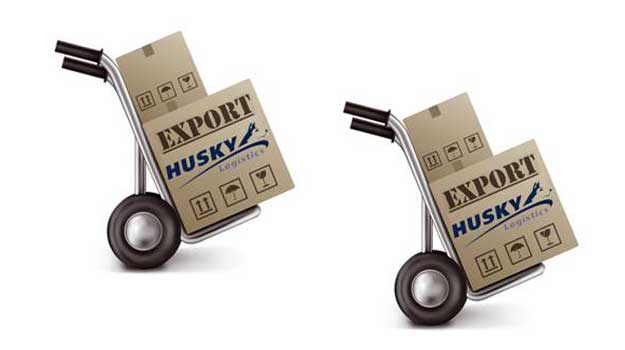 Sending you cargo over the border
If you need to send cargo across the border of your country, Husky Logistics can help you export it. Our team consists of experienced professionals who have been proving their worth over and over for more than 15 years of cargo delivery and customs documentation processing. We offer excellent turnkey prices.
Advantages of using "Husky Logistics" services
Full cooperation with the client,
Effective and competent customs documentation processing,
Branch offices in Shanghai and Helsinki,
Custom approach to every Client.
You can view the pricing for any cargo delivery on the home page of our website. Due to having branch offices and a wide network of partners across the world, "Husky Logistics" offers timely delivery and can also control the movement of your cargo on its route. We can help you prepare customs documents in no time, and ship your cargo comfortably and with great speed.
Our company has a branch office in China staffed with managers fluent in Chinese, who can help you quickly find the necessary goods on the Chinese market for a great value.
We offer full monitoring of both the paperwork and financial issues.
Another great advantage our company offers is filling out the export papers on behalf of the client's company regardless of the cargo size.
Our guide page allows you to determine the optimal route for your cargo. In order to do this, enter the departure and the arrival cities in the respective areas. After you do that, choose a search criteria and choose the cities which he cargo needs to move through. After you fill in the data about the speed and fuel consumption click the "Calculate" button and you will receive the result.
You can ask any questions in our central office in St. Petersburg which is located on Bumazhnaya st., 18. More detailed contact information is available on the corresponding website page.
Outsourcing consulting
Effective outsourcing consulting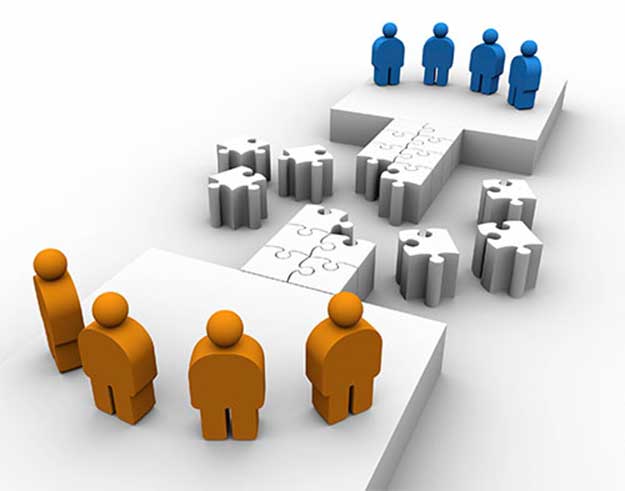 Nowadays, many companies that deal with cross-border logistics experience financial losses because maintaining your own CBL division is expensive and finding a sufficient amount of professionals that would be able to control all the underlying processes from afar is very hard.
It is much more financially efficient to outsource their cross-border logistics tasks. International practice proves again and again that outsourcing is not only superior in financial terms, but guarantees you the task will be overseen by a group of professionals.
Our company "Husky Logistics" has extensive experience in the field of CBL outsourcing and our staff consists of only highly-qualified professional managers, who specialize on foreign economic activities. We can become your external cross-border logistics department which you don't need to maintain, provide workplaces and equipment for. We can provide excellent control over every stage of the necessary work serve your interests vigorously. We offer the following services:
Finding a Chinese manufacturer. Search criteria and goods requirements are set by the client;
Negotiating and signing contracts with the manufacturer;
Executing financial transactions;
Designing logistic schemes;
Processing the full variety of documents required by the law;
Organize customs clearance of cargos;
Control over the delivery and customs formalities;
Personally handle the delivery to the receiving side.
You don't have to worry about finding a good professional, our specialists are the best in their field. We facilitate the development of the Russian companies and help them create fruitful partnerships with companies from abroad.
Our company has worked with numerous Chinese manufacturers and has its own branch office in Shanghai with a fully-trained staff fluent in Chinese that can help us navigate the Chinese market. Every company that has recruited our help allowed themselves to focus on their own development and increased the quality of their produced goods, which always leads to success.
Calculating delivery cost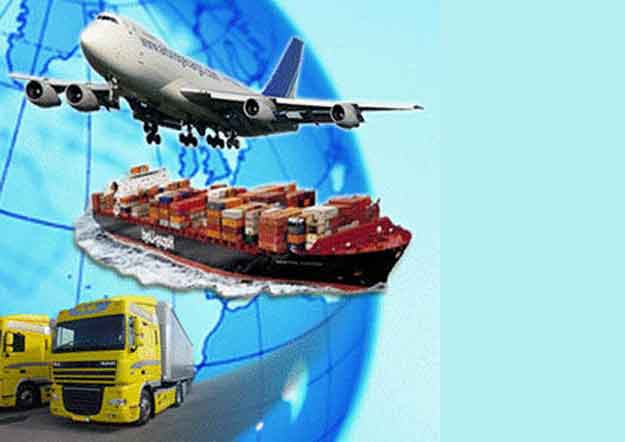 "Husky Logistics" has earned the trust of many companies over the years due to offering the full range of services in the field of cargo delivery. Shipment can be done by air, sea train or truck. The price of each delivery is determined individually for each client. We believe in the following criteria if price determination:
Scientific foundation : we explore the tendencies of economic phenomena and market specifics;
Targeted pricing: the delivery cost is aimed at solving social and economic problems;
Price control: the prices are controlled by the tariffs.
Factors that affect the delivery price:
Overall distance between dispatch point and the destination. We always choose the most optimal route, with options to choose the quickest path or the shortest path.
Individual tariffs for every type of delivery transport. Our company's specialists take into account the cargo characteristics (mass, volume, dimensions, area, price, etc.). We also take into account fuel and vehicle maintenance costs.
Fee for the team that will execute the delivery – the most important part of the delivery cost.
Price components
In order to determine the delivery price, our company takes into account the aforementioned factors and calculates the optimal route to make your investments minimal. The delivery price may also be affected by the following addition services:
Loading and unloading your cargo onto the transport;
Processing of necessary documentation;
Cargo escorting and protection;
Cargo insurance.
Our company has a lot of experience in the field and our staff consists exclusively of highly-qualified professionals. By using the services of such a big company as ours, you can be sure that we will help you on every step of your delivery, accurately calculate the delivery price and ensure the safety of your cargo. We also have branch offices in other cities which allows us to service you directly at your location.